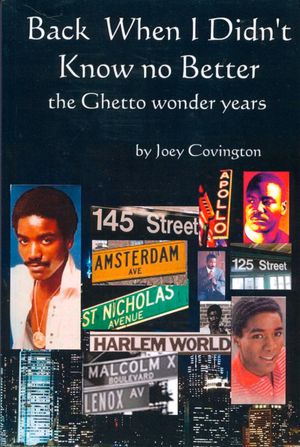 Back When I Didn't Know no Better: the Ghetto Wonder Years by Joey Covington (Buy Now!) 
Back When I Didn't Know no Better - Audio Book "Chapter 1" Read by Steven "Imp The Great" Laws
About:
Back when I Didn't Know No Better, a Harlem coming of age story. A story that chronicles the life of Harlem teenager Joey during the periods 1969-1983. After a year and a half stay in a millionaire gated mansion community in Seattle Washington, where he lived with his Aunt and his Uncle who was a butler for the rich white family they lived with. The whole year and a half stay all 12-year-old Joey could think of was the Harlem streets Avenues family and many friends he left behind.  
His Mom a factory worker who only works to cover up her husband's street activity's. His Dad a professional conman numbers man and loan shark highly respected in the streets of Harlem since the early 1940s and friend of Harlem legendary gangster Bumpy Johnson. Who escorted Joey on his first plane ride in 1964 from N.Y. to D.C.  
Joe returns home from Seattle. Be it ever so humble there's no place like Harlem. It never occurs to him he's changed since he's been gone, no more slang he now speaks with almost perfect diction. Once getting back to Harlem his old buddies find it amusing and funny that Joey has changed while he was away, it's even funnier when Joe recites the Gettysburg address and Declaration of Independence from start finish. Joey's proper ways will only last a month or so before he ain't speaking so proper no more, and with help from his friends learn how to steal smoke and hustle.  
He falls in love with his first girlfriend, trying to save her life from drugs & the junkies he learns of drugs and the drug trade. Using & selling at the age of 14. Although through it all there's something bigger in life. His dream is to get into show business, but he just doesn't know how to start. Until he figures out a way. The only thing he has to look up to are the sign of the times the Superfly's, Mack's, and neighborhood number men and Pimps who battle for turf.  
1982 after his Dad is kidnapped things really start to change. This is not only the story of Joey, but of a neighborhood and a time of boyhood friends, Junior, Red, Shorty, Flip, Tee & Wax and Zack. A story of Boys to Men, a story of ups and downs setbacks and triumph. It's a Drama, It's a Love story, It's a Comedy & Tragedy. It's The Ghetto Wonder Years, It's Back When I didn't Know no Better."  
Purchase the paperback: "Back When I Didn't Know no Better: The Ghetto Wonder Years" by Joey Covington on Amazon